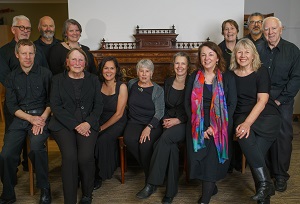 Cantabile, which takes its name from the Italian musical term meaning "in a singing style" is a community choir which has been in existence for over 25 years and has been incorporated as a not -for-profit association since 1992.
Based in the Melbourne suburb of Northcote, the choir devotes itself primarily to a capella (unaccompanied) music.  Repertoire ranges from Renaissance sacred music and madrigals through to contemporary compositions and settings of folk and popular music.  The ensemble performs by invitation at festivals, community gatherings, church services and private functions as well as presenting concerts of its own.  As it is a small ensemble, it suits singers who are looking for the challenge of knowing that their contribution is crucial to the overall sound, and who enjoy working on blend and dynamics in a very sensitive context.
Our Music Director is Barbara Chalmer.  Barbara is a graduate of the Queensland Conservatorium of Music where she studied voice with Janet Delpratt and sang in a number of choirs including a 12 voice ensemble directed by Colin Brumby. Since this time she has continued to sing with choirs large and small, and to conduct groups in her various teaching positions and was most recently Director of Music at Santa Maria College, Northcote. Barbara has been Music Director of Cantabile since 1998, and under her direction, the choir has developed a particular interest in contemporary Australian and English choral works.
The choir rehearses on a Monday evening starting at 7:30 pm.
Cantabile is an incorporated association registered with Consumer Affairs Victoria under the Associations Incorporation Reform Act 2012 (the Act). (Organisation A0026021D)